"The reason I applied for Precision Analysis was to work in a field which is very different from the medical fields that I am used to as well as to be a part of something that actively makes a difference within the agricultural community, which is a very important aspect of our country.
During my time that I have worked at Precision Analysis I have learned a great deal about this very unique line of working with animal feeds. I have learnt how important it really is to obtain high quality, accurate and reliable results as to the chemical composition of our outgoing feeds to ensure maximum customer satisfaction and how important it is to deliver the best quality feeds (both chemically and physically) to our customers and their livestock which ultimately affects us down the line.
I have learned about the many methods of chemical testing that is required by customers to ensure that the feeds they are receiving from the mill are top quality. I have had the opportunity to be trained in a few of these methods myself as well as calibrating a spectrometry device known as NIR Infraquant or Near Infrared Spectrometry with the latter allowing me to gain knowledge on how to deal with mass data manipulation and spectral graphs as well as ultimately manipulating data in the correct way.
My work with these methods over time has taught me the importance of the feed industry and how important it is to get reliable results as quickly and consistently as possible. At Precision Analysis, I have also extended my personal skills base through improved computer knowledge, working as part of a team, independence and responsibility as well as project management. I firmly believe that these aforementioned skills will indeed help me in my future scientific career"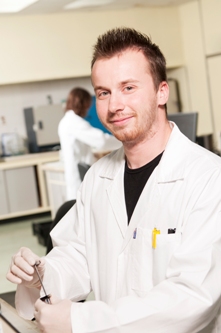 Michael Parsons, Current QUB Graduate Placement,