We believe it is important to showcase careers in science generally but particularly in chemistry and are committed to working closely with schools, colleges and universities to demonstrate the value of the work we do and to inspire and harness future talent.
Each year Precision Analysis provide work placements to students- in the last year this totalled 400 hours or 10 weeks, providing both supervised hands-on laboratory experience.  In addition school talks and site visits to our laboratory also provide guidance on how to pursue a scientific career.
This is also supported by work with STEM (Science, Technology, Engineering and Maths) initiatives to promote opportunities within this sector. 
Precision Analysis also offer under-graduate degree placements to students from scientific disciplines. This placement year offers valuable experience and training within a small team in a busy laboratory environment. The focus of this placement year is in analytical development projects.
Interested in joining our team? Laboratory placements start at the end of the academic year.  For more information email us
Our commitment to charity
Hard work is not without play so the team at Precision Analysis are committed to helping to support local community raising thousands of pounds through fund raising activities for charities  such as:
PIPS - Wear Yours Christmas Jumper to Work Day and Raffle 2015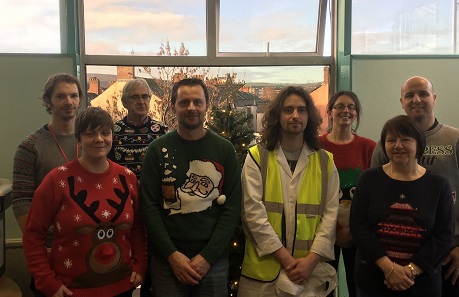 Childrens Hospice - Wear Your Christmas Jumper to work day and raffle

Marie Curie- Zipline across the Lagan River

Clic Sargent - Belfast City marathon